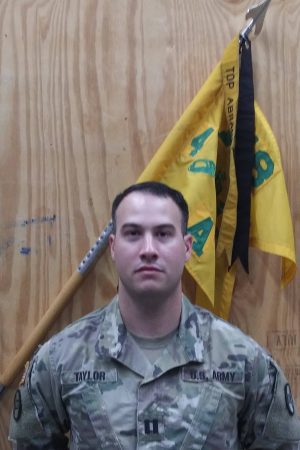 Mr. Richard Taylor
Gardner Webb University Army ROTC Instructor, MSCI 111/112 Instructor, MSCI 211/212 Instructor,
Captain Richard Taylor was born in Florence, SC on 15 January 1992. He attended Presbyterian College from 2011-2014 where he was a member of the Cross-Country team, Lacrosse team, and Pi Kappa Phi Fraternity. He earned his Bachelor of Arts in History, with minors in Chinese, and Military Science. Captain Taylor commissioned in 2014 as a Second Lieutenant in the Armor branch for the South Carolina Army National Guard.
Upon graduation Captain Taylor served as the Military Science instructor at Newberry College until he attended Armor Basic Officer Leadership Course (ABOLC) at Fort Benning, Georgia. He served as a Tank Platoon Leader under D Co 1-118th IN REGT and Executive Officer (XO) under A Co 4-118th IN REGT after renaming. After his assignment of XO, Captain Taylor was assigned to HHC, 4-118th IN REGT where he served as a Plans Officer in the S3 Operations shop. In 2019 Captain Taylor deployed with 4-118th IN REGT as a part of the 30th ABCT to the Middle East including Kuwait and Iraq. Captain Taylor acted as C2 OIC, Plans Officer, BN IO, BN Safety Officer, and BN LNO during the deployment. Upon returning from the deployment Captain Taylor was assigned Company Commander of A Co, 4-118th IN REGT where he currently serves.
Captain Taylor's schools include Armor Basic Officer Leadership Course, SC pre-command course, Maneuver Captain's Career Course, and Common Faculty and Instructor Development Course. He serves as the Senior Military Science Instructor for Gardner-Webb University.
His awards and decorations include the Army Commendation Medal, Army Achievement Medal, National Defense Service Medal, Global War on Terrorism Service Medal, Global War on Terrorism Expeditionary Medal, Army Service Ribbon, Army Reserve Component Achievement Medal, Overseas Service Ribbon, Armed Forces Reserve Medal, SC Palmetto Service Ribbon, and Captain Taylor is a Spur Holder.