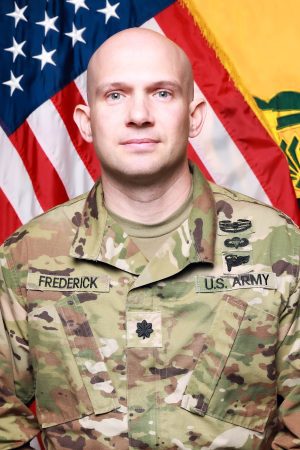 Lieutenant Colonel Joseph A. Frederick
Military Science Department Chair, Professor of Military Science, MSCI 4101/4102 Instructor,
LTC Frederick is currently serving as the Professor of Military Science, University of North Carolina at Charlotte.
LTC Frederick's previous assignments include Company Grade Positions in the 302D Brigade Support Battalion, Camp Casey; Joint Detention Group, Joint Task Force Guantanamo; Basra Operations Command Military Transition Team, Iraq; and Company Commander of the 584th mobility Augmentation Company, Fort Hood. His Field grade assignments include Deputy Commander for the Savannah District, U.S. Army Corps of Engineers; Commander of the 584th Forward Engineer Support Team-Advance; Battalion Executive Officer and Brigade Operations Officer in the 188th Infantry Brigade, Fort Hood; and various staff positions with U.S. Army Europe and Africa. His deployments include service in support of Operation IRAQI FREEDOM and Operation ENDURING FREEDOM.
He holds a Bachelor's of Science in Business Administration from Illinois Wesleyan University, a Master's of Science in Geological Engineering from the University of Missouri Science and Technology, a Master's of Business Administration from Columbia College, and a Master's of Science in Civil Engineering from the University of Illinois Urbana-Champaign. He is a graduate of the Engineer Officer Basic Course, Engineer Captain's Career Course, Resident Command and General Staff Officer Course, Mechanized Leader's Course, the Explosive Ordnance Clearance Agent Course and the Transition Team Basic and Advanced Courses.
LTC Frederick's military awards and decorations include the Bronze Star Medal (one OLC), Meritorious Service Medal (two OLCs) the Joint Service Commendation Medal, the Army Commendation Medal (two OLCs), the Joint Service Achievement Medal, the Army Achievement Medal, various campaign and service awards, the Combat Action Badge, the Pathfinder Badge, the Basic Parachutist Badge, and the German Armed Forces Military Proficiency Badge (Gold). He was also awarded the Joint Meritorious Unit Award, the Meritorious Unit Commendation (two OLCs) and the Army Superior Unit Award. The Engineer Regiment awarded LTC Frederick the Bronze de Fleury Medal and the Ordnance Corps awarded him the Order of Samuel Sharpe.