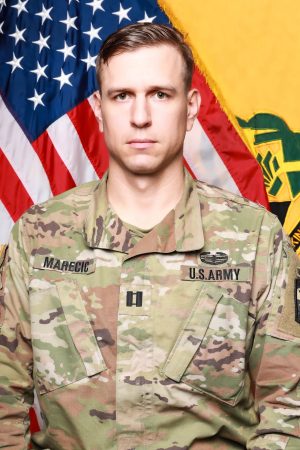 Captain Ian Marecic
Assistant Professor of Military Science, Gardner Webb MSCI 311/312 Instructor, Davidson College MIL 301/302 Instructor,
Captain Ian Marecic, of Westford, MA, graduated from Boston University and commissioned in the US Army as an Armor Officer in 2012. He attended Armor Basic Officer Leader's Course and the Army Reconnaissance Course at Fort Benning, Georgia in 2013.
CPT Marecic's first duty station was Fort Carson, CO, where he served as a Tank Platoon Leader while deployed in support of Operation Spartan Shield with 1-67 AR, 2nd ABCT, 4ID, as well as a Company Executive Officer. While assigned to 2-1 CAV, 1st SBCT, 4ID, he served as the Squadron Battle Captain and Maintenance Platoon Leader and attended the Cavalry Leader's Course. Upon completion of the Maneuver Captain Career Course, Ranger School, and the Combat Advisor Training Course, CPT Marecic served in A Troop, 3rd Squadron, 1st Security Force Assistance Brigade as an Operations Advisor and Advisor Company Executive Officer during its maiden deployment to Afghanistan in support of Operation Freedom Sentinel. In May 2019, CPT Marecic was assigned to the 6th Squadron, 1st Cavalry Regiment as the Squadron S4. CPT Marecic commanded Blackfoot Troop, 6-1 CAV from July 2020 to May 2021. He commanded Havoc Company (HHC), 1-36 IN Battalion from May 2021 to December 2021. He currently serves as an Assistant Professor of Military Science at Gardner-Webb University and Davidson College.
CPT Marecic's awards and decorations include the Bronze Star, Army Commendation Medal (3), Army Achievement Medal (5), National Defense Service Medal, Afghanistan Campaign Medal, Global War on Terrorism Expeditionary Medal, Army Service Ribbon, Overseas Service Ribbon, the Combat Action Badge, and the Ranger Tab. He is a member of the Order of Saint George.
CPT Marecic is married to Meekah Marecic of Portland, OR and has three children; Grace Frances (8), Mary Katherine (7), and Elizabeth Rose (5).
EDUCATION
2012 Bachelor of Arts in Psychology, Boston University
2013 Armor Basic Officer Leader's Course, Fort Benning, GA
2013 Army Reconnaissance Course, Fort Benning, GA
2015 Cavalry Leader's Course (Mobile), Fort Carson, CO
2017 Maneuver Captain's Career Course, Fort Benning, GA
2017 Ranger School, Camp Darby, GA
2017 Combat Advisor Training Course, Fort Benning, GA
2017 Advanced Situational Awareness Training Course, Fort Benning, GA
2022 Common Faculty and Instructor Development Course, Fort Knox, KY
ASSIGNMENTS
1. AUG 2013 – SEP 2014| Tank Platoon Leader | D CO, 1-67 AR (CAB), 2ABCT, 4ID; Fort Carson, CO
2. SEP 2014 – NOV 2014| Tank Company XO | D CO, 1-67 AR (CAB), 2ABCT, 4ID; Fort Carson, CO
3. NOV 2014 – NOV 2016| Squadron Battle Captain | 2-1 CAV, 1SBCT, 4ID; Fort Carson, CO
4. NOV 2015 – OCT 2016| Maintenance Control Officer | 2-1 CAV, 1SBCT, 4ID; Fort Carson, CO
5. OCT 2017 – JUN 2019| Advisor Company XO; Operations Advisor|3SQDN, 1st SFAB; Fort Benning, GA
6. JUN 2019 – JUN 2020| Logistics Officer|6-1 CAV, 1ABCT, 1AD; Fort Bliss, TX
7. JUN 2020 – JUN 2021| Troop Commander| B TRP, 6-1 CAV, 1ABCT, 1AD; Fort Bliss, TX
8. JUN 2021- DEC 2021| Headquarter Company Commander| HHC, 1-36 IN, 1ABCT, 1AD; Fort Bliss, TX
9. DEC 2021 – FEB 2022| Operations Officer| 1ABCT, 1AD; Fort Bliss, TX