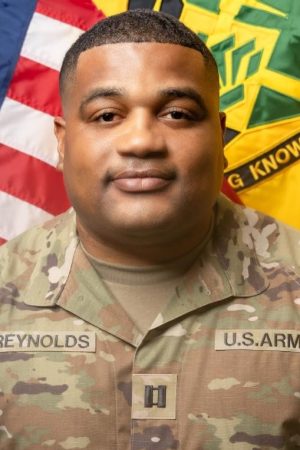 Captain Aaron J. Reynolds
Assistant Professor of Military Science, Detachment Training Officer, S3
CPT Aaron J. Reynolds was born on Fort Bragg, NC (Currently Fort Liberty). He is a native of Fayetteville,
NC. He attended Fayetteville State University, graduating with a Bachelor of Science in Criminal Justice
(Cum Laude) in May of 2015. CPT Reynolds is currently pursuing a Master's degree in Intelligence Studies
from American Military University. He enlisted in the United States Army in October of 2011 as a 92F
(Petroleum Supply Specialist). CPT Reynolds attended Basic Combat Training at Fort Jackson SC. He
attended Advanced Individual training (AIT) at Fort Lee Graduating in July of 2012 (Honor Graduate). In
May 2015 he was commissioned into active Army Service from the ROTC program at Fayetteville State
University as a Military Intelligence Officer with a Branch Detail of Armor. CPT Reynolds served as Cadre
for the Cadet Leader's Course (CLC) during the summer of 2015 at Fort Knox, KY.
CPT Reynolds previous assignments include Assistant S3, HHT 4th Squadron, 3d Calvary Regiment
(Rear D); Scout Platoon Leader, Outlaw Troop, 4th Squadron, 3d Calvary Regiment; Scout Platoon
Leader, Nomad Troop, 4th Squadron, 3d Calvary Regiment. CPT Reynolds then Deployed to Mosul Iraq in
April 2018 in support of Operation Inherent Resolve as the Plans officer for HHT 4th Squadron, 3d
Calvary Regiment. He simultaneously held the duties supporting the Ninewa Operations Center (NOC) as
the Protection OIC, Information Operations OIC, Civil Affairs OIC and S3 Air OIC. CPT Reynolds was then
assigned as the International Military Student Office (IMSO) OIC for Fort Huachuca, AZ. After graduating
from the Military Intelligence Captain's Career Course CPT Reynolds was assigned as the Battalion S2 for
503D Military Police Battalion (Airborne), 16th Military Police Brigade. CPT Reynolds was then selected to
activate Alpha Detachment, 519th IEW BN (CORPS), 525th Expeditionary Military Intelligence Brigade in
October 2021. The activation was a part of the first Force Design Update (FDU) transforming the 519th
Military Intelligence Battalion to the 519th IEW BN (Corps). CPT Reynolds now serves at the Assistant
Professor of Military Science at UNC-Charlotte.
CPT Reynolds military education includes Combative Level 1, Armor Basic Officers Leader Course
(ABOLC), Army Reconnaissance Course (ARC), Advanced Situational Awareness Course, Stryker's Leaders
Course, Order of the Silver Spur, UAS CDR & Staff Leaders Course, Military Intelligence Officer Transition
Course (MIOTC) and Military Intelligence Captains Career Course (MICCC).
CPT Reynolds military decorations include the Meritorious Service Medal, Army Commendation Medal
w/ C Device (2 OLC), Army Achievement Medal (1 OLC), National Defense Medal, Iraq Campaign Medal,
Global War on Terrorism Service Medal, Military Outstanding Volunteer Service Medal, Army Service
Ribbon, and Overseas Ribbon.