Nursing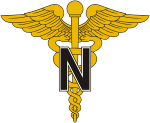 Upon graduation from college with a Baccalaureate Degree in Nursing and successfully completing the Army ROTC program, you may be eligible to commission into the U.S. Army and become part of an elite organization that protects the health of our nation's fighting forces. It is a position of great responsibility, high expectations, learning and adventure. You will immediately be given more responsibility, sooner and with greater authority than you would expect in the private sector. You will refine the leadership skills you developed in ROTC as you serve your country.
There are five BSN producing schools (UNC Charlotte, Gardner-Webb University, Queens University, Pfeiffer University, and Wingate University) that are eligible to participate in the UNC Charlotte Army ROTC program. All ADN students would have to transfer to a BSN producing school and aquire a BSN in order to commission as an officer in the Army Nurse Corps. We ensure our nursing students have the necessary tools to succeed as well as meet with a Brigade Nurse counselor once a semester to help mentor our nursing students.
For additional details and information check out the Army ROTC Nursing website and/or the Army Nurse Corps website.
Nurse Scholarship
If you receive an Army ROTC Nurse Scholarship you will recieve the following extra benefits:
NCLEX-RN review course fee paid
NCLEX-RN exam fee paid
Guaranteed nurse position upon graduation
Malpractice insurance paid
Immunizations paid
Nursing supplies paid
Uniforms paid
*Please note that if you receive a Nurse Scholarship and have to drop nursing and change your major, you will lose the scholarship. Nurse Scholarship requirements are the same as all other ROTC Scholarships.
Nursing Specialty Courses
The Army offers six specialty areas of study to nurse officers:
Critical Care
Preoperative
Emergency Medicine
OB/GYN
Community Health
Psych/Mental Health
These courses are 16 weeks in length and are conducted in a combination of classroom and clinical settings. Army Nurses must have a minimum of one year clinical experience prior to attending one of these schools. All scholarship nurse cadets will automatically be eligible to apply for specialty training within the first 6-12 months on active duty.
Educational Opportunities
The Army Nurse Corps encourages its nurses to improve their skills and enhance their professional experience through a variety of educational programs, including fully funded post-graduate opportunities, continuing education, and specialty courses. Post-graduate fields include:
Clinical Nurse Specialist
Healthcare Administrator
Nurse Anesthetist
Family Nurse Practitioner
Informatics
Nurse Midwife
Advantages of Army ROTC Nursing:
Experience – You will not find anywhere else the kind of direct, hands-on experience you will receive in ROTC training. You will be given significant responsibilities early in your career.
Leadership – An officer is a leader. That's why leadership and management are stressed as part of the ROTC nursing program. The Army provides nursing students with unique training to develop the skills that will help you take command.
Advancement – there is no mystery about how to get ahead in the Army Nurse Corps. Promotions are based on performance, and the career path is clear-cut. You will be given the opportunity to progress in rank as your nursing proficiency and effective leadership traits are demonstrated.
Professional Environment – As an Army Nurse, you are an important member of the health care team. You have been given the training to meet problems head-on and solve them quickly, adapting to the situation and taking charge. You are a thinker and decision maker, earning the respect of your colleagues and the people who work for you.
Summer Training:
Nursing students participate in an Army ROTC Advance Camp and the Nurse Summer Training Program (NSTP). This training typically takes place during the summer between the junior and senior years in college. Benefits earned during the Advance Camp and NSTP experience include room and board and approximately $1000 in pay. The Training Program is divided into two phases:
Phase I: Advance Camp is a 30-day field training exercise, focusing on basic military skills and leadership training which are taught during the junior year of ROTC. This training exercise is conducted at Fort Knox, KY.
Phase II: NSTP is a 3-week clinical experience at an Army Hospital where nurse cadets will work one-on-one with an Army Nurse Corps Officer. Cadets will have the opportunity to gain job experience and refine their leadership, clinical, and administrative nursing skills. This experience is clinically focused and based on the preceptor model of teaching. Nursing Cadets will have the opportunity to compete with their peers for the opportunity to attend speciality schools like Airborne and Air Assault.
Army Nurse vs. Civilian Nurse
Where civilian nurses typically start out with 2 weeks of vacation a year, an Army nurse enjoys 30-days of vacation a year, unlimited sick leave with full pay and benefits, free medical and dental benefites, free fitness centers, tuition assistance programs, and eligible for a retirement pension after 20 years active service. Army nurses also enjoy pay raises every two years, at a minimum, and get promoted like any other commissioned officer in the Army.
Civilian Nurse

Army Nurse

Vacation

2 weeks per year

30 days per year

Sick Leave

Limited

Unlimited, with full pay and benefits

Medical/Dental

Possible Professional Discount

FREE

Travel

At Own Expense

Military facilities around the world offer discounts on flights

Recreation

At Own Expense

Officers Club, golf courses, fitness centers, etc at reduced rates

Continued Education

Possible Reimbursement

Programs available for tuition. Army pays 75-100% of all tuition costs.

Retirement

Social Security at 62 and own retirement plan

Eligible for retirement after 20 years active service

Pay Raises

As determined by civilian institution

Automatic raises every 2 yrs.

Shopping

civilian stores

Reduced prices at Post Exchange, and Commissary

Relocation Allowance

At own Expense

Household goods moved at Government expense, plus moving expenses

Life Insurance

At own Expense

$400,000 term policy at $27 a month

Job Security

Seniority lost when relocating

SECURE! Your seniority moves with you.
Advanced Education Opportunities as an Army Nurse:
Obstetrical/Gynecological Nursing:
Prepares nurses to care for patients in all aspects of the childbearing spectrum-pregnancy counseling, pregnancy, labor, and delivery, and postpartum care. This course lasts 16 weeks and is offered at Tripler Army Medical Center (TAMC) in Hawaii.
Critical Care Nursing:
Trains nurse in anatomy, physiology, pharmacology, physics, CPR, inhalation therapy, diagnostic, psychological and sociological problems, and ethical and legal considerations in the care of critically ill patients. This 16-week course can be taken at Walter Reed Army Medical Center(WRAMC) in Washington, D.C., Madigan Army Medical Center (MAMC) in Tacoma, Washington, or Brooke Army Medical Center (BAMC) in San Antonio, TX.
Preoperative Nursing:
Prepares Nurses for all phases of operating room nursing, including advanced skills related to specialty areas in surgery and the principles and techniques of supervising and managing an operating room. This course is 16 weeks and can be attended at WRAMC, MAMC, or BAMC.
Psychiatric-Mental Health Nursing:
Prepares nurses to provide specialized care to emotionally distressed individuals both as inpatients and outpatients, and to provide consultation within the general hospital community. This course is 16 week long and is offered at WRAMC.
What Happens After Graduation?
First off, you will receive a commission in the U.S. Army Nurse Corps as a Second Lieutenant. After commissioning and completion of the NCLEX, you will attend Officer Basic Course at Fort Sam Houston in San Antonio, TX. After completion of this course, you will then move on to your first duty station. Duty station assignments are based on your input of location preference and your performance throughout both the nursing and ROTC program. After just one year at your initial assignment, you will have the opportunity to attend a clinical specialty course in one of the following areas: Perioperative Nursing, OB/GYN Nursing, Critical Care Nursing, and Psychiatric/Mental Health Nursing.
Helpful Links:
Senior Nursing HandbookU.S. Army Nurse Corps